India's Ministry of External Affairs has launched the Global Pravasi Rishta portal and mobile app to connect with the nearly 3 million strong Indian diaspora. This portal will foster three-way communication between the Indian government, missions, and the diaspora.
Features of Global Pravasi Rishta Portal
On the Global Pravasi Rishta Portal, you can find helpful information about consular services, events organized by the Embassy, and information about new Government of India schemes.
It will also provide a platform for sharing opinions and suggestions. In addition to providing comprehensive data on the diaspora, registering on the site will also help to maintain an updated database of Indians worldwide.
This portal is not designed for looking for services or filing grievances that are already provided by dedicated portals such as CPGRAM, MADAD, etc.
Who Can Register?
Non-Resident Indians (NRI), Persons of Indian Origin (PIO), Overseas Citizens of India (OCI), Indian students studying abroad and Indians working abroad can register on this platform.
How To Register on Global Pravasi Rishta Portal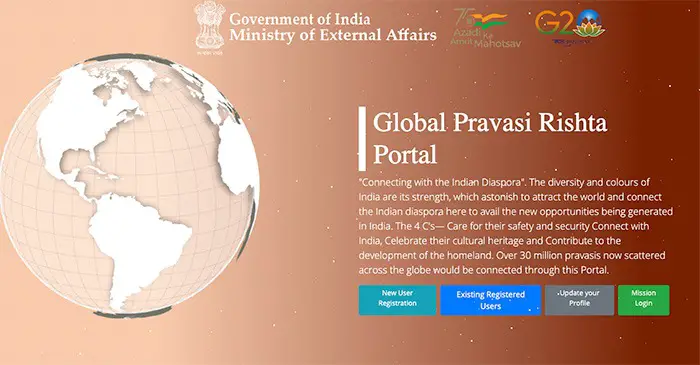 Step 2: Click on "New User Registration"
Step 3: Fill up the form with all details
You have to provide your name, country of residence, email, phone and passport number.
Once you click the "Submit" button you will receive an activation link in your email.
Step 4: Click on the activation link received in your email
Now your registration is complete. You can have multiple persons registered on the same email ID.
---
How To Update Details on Global Pravasi Rishta Portal
Whenever there is a change in your details like phone number, country or city of residence, you have to update the details on the portal.
Step 2: Click on "Update your profile"
Step 3: Enter your registered email ID
Step 4: Select the profile from the link, click "Edit"

Step 5: Update your details on the form, click "Update"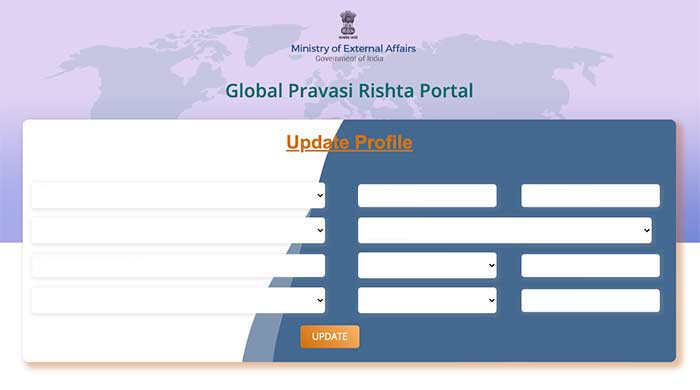 Your details will be updated instantly.
If you click on "Existing Registered Users" and select the country of residence you can see the links to all related services on one page.
The Ministry of External Affairs has requested the Indian diaspora worldwide to register on the portal.
Copyright © NRIGuides.com – Full or partial reproduction of this article in any language is prohibited.
---
You May Also Like
---