Every country has their own Customs list of prohibited and restricted items, and India is no exception. There are many things that you cannot bring into the country, whether it's due to concerns about security or simply because they are illegal.
It is the responsibility of Indian Customs to prevent the illegal import of prohibited items from entering the country. If you're planning on travelling to India, make sure you familiarize yourself with the Indian Customs list of prohibited items so that you don't end up having your belongings confiscated or worse, getting arrested.
Here is a breakdown of some of the most common items prohibited for air travellers to India:
What are Prohibited Goods in Customs?
Prohibited goods are items that are legally banned for import to or export from a country. Examples include goods which may cause social, health, environmental, wildlife, or security problems.
Indian Customs List of Prohibited Items
The latest version of the Official Travellers Guide published by the Indian Government's Central Board of Indirect Taxes and Customs (CBIC) lists the following items as Prohibited Goods:
Narcotic Drugs and Psychotropic substances
Pornographic material
Counterfeit and pirated goods and goods infringing any of the legally enforceable intellectual property rights
Antiquities
Firearms
Maps and literature where India's external boundaries are shown incorrectly
Wildlife products
Counterfeit Indian Currency notes, stamps and coins
Specified live birds and animals
Fake currency notes
Indian Customs List of Restricted Items
CBIC has also listed the following items as Restricted Goods:
Ammunition.
Live birds and animals including pets
Plants and their produce e.g. fruits, and seeds
Endangered species of plants and animals, whether alive or dead
Any goods for commercial purpose: for profit, gain or commercial usage
Radio transmitters not approved for normal usage
Gold and Silver, other than ornaments (for import only)
Indian and foreign currency in excess of prescribed limits
Satellite phones
Drones
Foreign currency in excess of the amount legally obtained or in the case of tourists in excess of the amount declared on arrival or in excess of the exempted limit of the declaration at the time of departure.
These goods can only be imported after obtaining special permits and paying Customs duty if applicable. There are also restrictions on the number of such goods.
Passengers who are moving permanently to India after a period of stay abroad are eligible to import some of these goods using the Transfer of Residence (TR) facility. You can read more about that here:
READ: Transfer of Residence to India: Customs Rules for NRI
India Customs Food Restrictions
Regular foods for personal consumption (in small quantities) are allowed for all passengers. However, you have to declare to Customs if you are bringing meat, meat products, dairy products, fish or poultry products.
Green Channel and Red Channel at Indian Airports
At all Indian airports, there are two channels to choose from for customs clearance:
Green Channel: meant for passengers carrying no dutiable or prohibited goods
Red Channel: for passengers carrying dutiable or prohibited goods
Please note that those who opt for the Green Channel with dutiable, restricted, or prohibited goods are subject to prosecution/penalties and confiscation.
If you have any dutiable or prohibited goods, you can make a declaration using the Indian Customs Declaration Form or Atithi mobile app and go through the Red Channel. Even if you are not sure about any item, you can go to the Red Channel and seek assistance from an officer.
READ: Indian Customs Declaration Form: Things to Know
List of Items Prohibited by Airlines
Apart from the items banned by Indian Customs, below are some items that are usually prohibited by airlines due to safety or security issues. If needed, you can check with your airline for confirmation: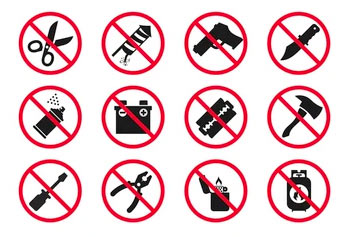 Items Not Allowed in Hand Baggage
Personal Items
E-cigarettes
Lighters
Scissors-metal with pointed tips
Realistic replica of a toy weapon
Sharp Objects
Box Cutters
Ice Axes/ Ice Picks
Knives (any length and type except round-bladed, butter, and plastic cutlery)
Meat Cleavers
Razor-Type Blades such as box cutters, utility knives, razor blades not in a cartridge, but excluding safety razors
Sabres
Scissors – metal with pointed tips
Swords
Sporting Goods
Baseball Bats
Bows and Arrows
Cricket Bats
Golf Clubs
Hockey Sticks
Lacrosse Sticks
Pool Cues
Ski Poles
Spear Guns
Guns and Firearms
Ammunition
BB Guns
Compressed Air Guns
Firearms
Flare Guns
Gun Lighters
Gun Powder
Parts of Guns and Firearms
Pellet Guns
Realistic Replicas of Firearms
Starter pistols
Tools
Axes and hatchets
Cattle Prods
Crowbars
Hammers
Drills (including cordless portables power drills)
Saws (including cordless portable power saws)
Screwdrivers (except those in eyeglass repair kits)
Tools (including but not limited to wrenches and pliers)
Wrenches and Pliers
Martial Arts / Self-Defense Items
Billy Clubs
Black Jacks
Brass Knuckles
Kubatons
Mace/ Pepper Spray
Martial Arts Weapons
Night Sticks
Nunchakus
Martial Arts/Self-Defense Items
Stun Guns/ Shocking Devices
Throwing Stars
Explosive Materials
Blasting Caps
Dynamite
Fireworks
Flares (in any form)
Hand Grenades
Plastic Explosives
Realistic Replicas of Explosives
Flammable items
Liquid/Aerosol/Gel/Paste or items of similar consistency (Allowed separately, in small quantities required for the duration of the journey, in one clear transparent re-sealable one-litre size plastic bag. Each item should, however, not exceed 100 ml in quantity). Exception: Medicine/inhaler accompanied by prescription and baby food.
Fuels (Including cooking fuels and any flammable liquid fuel)
Gasoline
Gas Torches
Lighter Fluid
Strike-anywhere Matches
Turpentine and Paint Thinner
Realistic Replicas of Incendiaries
Disabling Chemicals and Other Dangerous Items
Chlorine for Pools and Spas
Compressed Gas Cylinders (including fire extinguishers)
Liquid Bleach
Spillable Batteries (except those in wheelchairs)
Spray Paint
Tear Gas
This is only an indicative list of items. Despite this, common sense should prevail in determining whether an object may be used as a weapon for interfering with civil aviation operations.
Items Not Allowed in Check-in Baggage
The following items are not allowed in check-in baggage for most airlines:
Compressed gases (deeply refrigerated, flammable, non-flammable and poisonous such as butane oxygen, liquid nitrogen, aqualung cylinders and compressed gas cylinders)
Corrosives (like acids, alkalis, mercury and wet cell batteries and apparatus containing mercury)
Explosives, ammunitions, fireworks and flares, ammunition including blank cartridges, handguns, fireworks, pistol caps
Flammable liquids and solids (like lighter refills, lighter fuel, matches, paints, thinners, fire-lighters, lighters that need inverting before ignition, matches, radioactive material, briefcases and attached cases with installed alarm devices
Oxidizing materials (like bleaching powder and peroxides)
Poisons and infectious substances (like insecticides, weed-killers and live virus materials)
E-cigarettes
Anything that possesses and/or is capable of possessing and/or emitting a conspicuous and/or offensive odour
Other dangerous articles such as magnetized materials, offensive or irritating materials
For the following items, please check directly with your airline:
Batteries and Battery-powered Devices
Portable medical electronic devices (PMED)
Portable electronic devices, such as power tools, video cameras and laptops
Battery-powered wheelchairs and mobility aids
Personal Motorised Vehicles
Fuel and fuel cartridges
What Happens to Prohibited Items in Customs
Under the Customs Act of 1962, a non-declaration, misdeclaration, or concealment of imports is an offence punishable by confiscation, fine, penalty, or even prosecution.
If a passenger is caught with prohibited items, the goods will be confiscated and the passenger may face legal actions depending on the nature of the goods. These may include a fine, penalties on individuals or concerned entities, arrest and prosecution or even preventive detention in cases of grave violations.
Please note that ignorance of the law doesn't immune you from the legal consequences.
Temporary Detention of Baggage
However, if a passenger willingly declares an article which is dutiable or the import of which is prohibited, the Customs officer may detain that article for the purpose of being returned to the passenger on his leaving India.
If the passenger is not able to collect the article at the time of his leaving India, the article may be returned to him through any other passenger leaving India in his name or as cargo consigned in his name (Customs Act, 1962, Section 80)
Conclusion
Please remember that Customs officers in India have the authority to question you and examine your personal property. In the event that you are selected to be questioned/examined, you have the rights to be treated politely, professionally and respectfully. At the same time, you are also responsible to cooperate with Customs officers in case of an examination.
---
Frequently Asked Questions
---
What happens to items seized by customs in India?
If goods are confiscated, their ownership passes to the Government and Indian Customs is responsible for disposal.
Can a passenger bring a satellite phone to India?
No, the import of satellite phones is banned in India. Any individual found to be in possession of an unauthorized satellite phone in India is liable to be prosecuted and all unauthorized sets found will be seized.
Can I carry a power bank on a plane in India?
Carriage of power banks as part of check-in baggage is strictly prohibited. However, the
same can be carried in hand baggage (cabin baggage).
---
Related Articles:
Copyright © NRIGuides.com – Full or partial reproduction of this article in any language is prohibited.
---
Sources: Airport Authority of India, Central Board of Indirect Taxes and Customs, Bureau of Civil Aviation Security