The NRI Guides Team regularly reviews this article to ensure the content is up-to-date and accurate. The last editorial review and update were on 20 October 2023.
One of the most repeated questions on our website is regarding customs duty on carrying LCD/LED televisions as baggage to India.
The main issue with this subject is that there are conflicting reports on different websites. Some websites are outdated, while some are providing the wrong info. Sadly, even the official website of Indian Customs doesn't have easy-to-understand answers to these questions.
This article has an Online Calculator for Indian Customs Duty on LCD/LED TV and explains the procedures to be followed while carrying a television to India.
Table of Contents
The below information has been prepared after studying the Indian Baggage Rules and traveller guidelines issued by the Central Board of Indirect Customs and Taxes.
Indian Airport Customs Duty on LCD/LED TV
Customs Duty on LCD, LED or Plasma TV at Indian airports is 38.5% of the assessed value.
Here are the important points to know about carrying televisions to India:
You have to pay duty on all types of flat-panel televisions (LCD, LED, Plasma etc).
Duty-Free Allowance of Rs 50,000 is not applicable to flat-panel televisions.
Customs Duty is applicable to flat panel televisions of all sizes (Even if it is 21 inches).
To sum it up, all flat-panel televisions are subject to 38.5% duty, irrespective of their screen size.
To confirm this, we have checked Duty Receipts from recent travellers and all show 38.5%.
How Customs Duty Is Calculated on TV
The guideline for Customs Officers says that the duty is 38.5% on "the assessed value", which need not be the actual cost of the TV. The value will be assessed on arrival, based on parameters such as make, model, condition of the TV- whether new or old etc.
To help with assessment, Customs Officers have an internal database of popular TV models and prices. This database is not available to the public.
Indian Customs Duty Calculator For TV
We have developed a calculator to get a rough estimate of the customs duty on LCD or LED TV. Since you cannot predict the assessed value, you can get an estimate by converting the cost into Indian Rupees.
Enter the approximate value in the first field and press the "Calculate Customs Duty" button to get an estimate.
You may not see this calculator if you are using an ad-blocker. So please disable your ad-blocker and refresh the page.
Disclaimer: Please note that this may not be the actual duty calculated by the Officer as it would depend on the assessed value.
Some Frequently Asked Questions
1. My friend paid only 20% when he took a similar TV last month. Why am I asked to pay 38.5%?
The assessed value depends on the officer's judgement. Some officers are strict and stick to the customs database, while some are flexible and may record a lower assessment value.
For example, you may have bought a 42″ LED TV for AED 2,500 (Rs 50,000) but the officer may assess the value at Rs 25,000. In this case, you have to pay only Rs 9,625 in duty.
The Duty Receipt would show that the assessed value is Rs 25,000 and you paid 38.5% of the value. In reality, you have paid only 19% of the cost price. This is why most people feel they paid less than 20%.
2. Do I have to carry original bill / invoice?
The assessed value is not solely dependent on the cost price of the product. However, producing a purchase bill/invoice may help the Customs Officer in the assessment.
Note that it is not mandatory for the Officer to charge you based on the bill. He can use the Customs database and his personal judgement in assessing the value.
3. What if I bought the TV on a discount offer? Can I get the assessment done at the same price?
Here also it is not mandatory for the Officer to charge you based on the bill. He can use the customs database and his personal judgement in assessing the value.
4. Can I get a discount on used TV?
For older and used TV sets, travellers can request depreciation. This is usually granted based on the number of years used. The assessed value will be lower for older TVs.
5. Do I have to pay duty even if I am cancelling my visa or I am terminated from work?
There are special allowances for professionals returning to India after completing a contract. However flat panel televisions are not included in such allowances.
6. Do I have to pay the duty in Indian Rupees or Foreign Currency?
The assessment and invoicing are usually done in Indian Rupees. However, you can pay in foreign currency as most currencies are accepted in all Indian airports.
Maximum TV Size Allowed In Flight To India
There is no restriction on bringing any size of TV to India, as long as you are ready to pay the Customs Duty.
However, airlines have their own policy for the maximum size that can be carried on their flights. Make sure to check the maximum baggage dimension for your flight, particularly if you are carrying 50 inches or bigger. The airline's website should have the maximum dimension per box. Pay attention to the weight per piece also.
At the check-in counter, mention that you have a TV in baggage. Airline officials will label it as Fragile and pass it through a special conveyor belt for oversize luggage.
---
Frequently Asked Questions
---
Do I have to declare TV on the Customs Declaration Form?
Yes, the new Customs Declaration Form has an additional field to declare any flat-panel television you are carrying. You have to mention it there, show it to the Customs Officers, and pay the duty before leaving.
What is the maximum size of TV that I can take to India?
The maximum size depends on your airline policy. There is no size restriction by the India Government as long as you pay duty.
---
Related Articles:
Copyright © NRIGuides.com – Unauthorized reproduction of this article in any language is prohibited. The information provided on this website is intended for general guidance and informational purposes only. It should not be considered a substitute for professional advice, and travellers are encouraged to verify visa requirements and travel advisories through official government sources before making any travel arrangements.
Reference: Central Board of Indirect Taxes & Customs, Baggage Rules 2016
---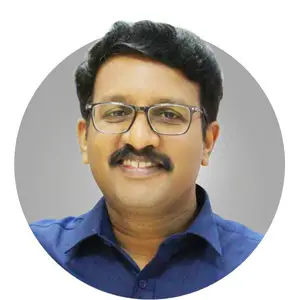 Aneesh, the Founder & Editor of DG Pixels, holds a Master's Degree in Communication & Journalism, and has two decades of experience living in the Middle East. Since 2014, he and his team have been sharing helpful content on travel, visa rules, and expatriate affairs.