The NRI Guides Team regularly reviews this article to ensure the content is up-to-date and accurate. The last editorial review and update were on 25 October 2023.
For many foreign citizens of Indian descent living outside India, the Person of Indian Origin (PIO) card and Overseas Citizen of India (OCI) card were once integral to their connection with the land of their forebears.
However, in 2014, Indian Prime Minister Narendra Modi's historic announcement during his US visit brought significant changes to these schemes. The PIO card scheme was merged with the OCI card scheme, marking the end of the PIO category. As a result, all existing PIO cardholders were reclassified as OCI cardholders.
This article explains the features of the PIO, including its eligibility criteria, benefits, validity, and how it compares to the OCI card. Furthermore, we'll guide you through the process of converting a PIO card into an OCI card.
Table of Contents
---
Recent Updates
According to a notification in December 2022, Government of India has decided that PIO cards will be accepted as valid travel document till 31 December 2023 along with valid foreign passport. The Indian Immigration Check Posts will continue to consider all PIO cards valid for entry/exit into India till 31 December 2023.  
---
Who is a Person of Indian Origin?
A Person of Indian Origin (PIO) was defined as a foreign citizen who met one of the following criteria:
Held an Indian passport at any time.
Had parents, grandparents, or great-grandparents born and permanently residing in India.
Was a spouse of an Indian citizen or another PIO.
The PIO card, issued before 2014, allowed those with Indian heritage up to four generations back to apply, with the exception of citizens from Pakistan, Afghanistan, Bangladesh, China, Iran, Bhutan, Sri Lanka, and Nepal.
PIO Card Benefits and Limitations
Prior to its discontinuation, the PIO card offered several advantages, such as:
Visa-free travel to India for 15 years from the date of issue.
Exemption from registration with the Foreigners Regional Registration Office (FRRO) if the stay did not exceed 180 days. For longer stays, registration within 30 days was required.
Parity with Non-Resident Indians (NRIs) in various economic, financial, and educational benefits.
Rights to acquire, hold, transfer, and dispose of immovable properties in India, excluding agricultural and plantation properties.
Admission of children to educational institutions in India, including prestigious institutions like IITs and IIMs.
Access to housing schemes and the ability to obtain driver's licenses and PAN cards, open bank accounts, and invest in India.
However, PIOs did not have employment rights in the Government of India, the right to vote in elections, or the ability to hold constitutional offices in the government. Additionally, permission was required for activities such as mountaineering, missionary work, research, and visiting restricted areas in India.
End of PIO Card Scheme
The PIO Card scheme has been withdrawn vide Gazette Notification No.25024/9/2014F.I dated 09.01.2015.
Currently, applicants may only apply for an OCI card as the PIO card scheme is no longer in existence.
In case the PIO card holder has a new passport then he/she can travel to India on their new passport with the valid PIO card and old passport mentioned on the card.
OCI Card Scheme
The Overseas Citizens of India (OCI) card, which succeeded the PIO card, offers several advantages, including:
Multipurpose, lifelong visas for multiple entries, allowing unrestricted visits to India for any purpose.
Exemption from police reporting for any length of stay in India.
Equal rights in the economic, financial, and educational fields, except for acquiring agricultural or plantation properties.
Expedited immigration clearance at immigration check posts.
Differences Between PIO and OCI Cards
Here's a summary of the key distinctions between PIO and OCI cards:
| Subject | PIO Card | OCI Card |
| --- | --- | --- |
| Fee | US$ 388 | US$ 275 |
| Validity of visa | 15 years from the date of issue | Life long after the date of issue |
| Registration at FFRO/FRO | After 180 days, within the next 30 days | After 5 years of issue of OCI, one can apply after residing in India for a minimum of one year |
| Obtaining Indian Citizenship | One can apply after regularly raising in India for a minimum of seven years. | After 5 years of issuing of OCI, one can apply after residing in India for a minimum of one year |
| Visit restricted areas | Prior permission required | Permission not required |
Validity of PIO Cards
Indian immigration authorities accept all PIO cards, including handwritten ones, at all airports until December 31, 2023. However, this extension is contingent on ICAO (International Civil Aviation Organization) notifications; if handwritten PIO cards become invalid before the specified date, travellers will need appropriate visas from Indian Missions/Posts abroad.
All PIO cardholders are encouraged to convert their PIO cards to OCI cards in a timely manner.
How To Convert PIO Card To OCI Card
You can make an online application to convert a PIO card to an OCI card by following the below steps:
Step 1: Go to the OCI Services website
The website address is https://ociservices.gov.in/
Step 2: Click on "Click Here To Proceed"
On the page, click on the text link that says "Click here to proceed".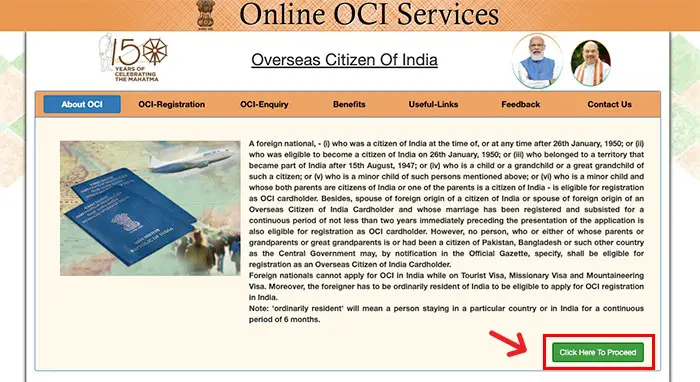 Step 3: Select "OCI Registration (In Lieu Of Lost PIO-Card)"
This button is on the left-hand side of the page.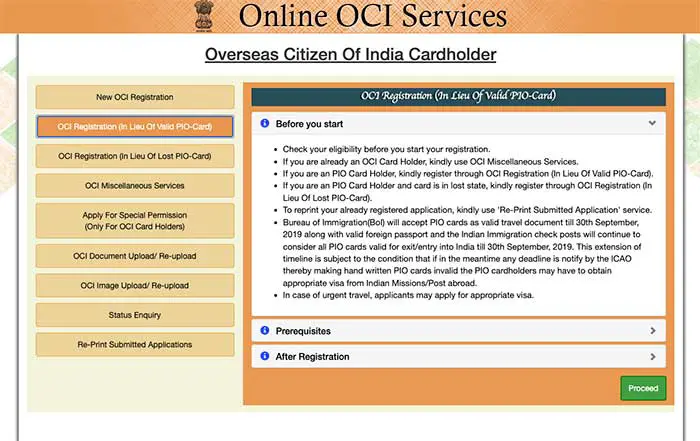 Step 4: Read the instructions and click on "Proceed"
Accept the terms and conditions, Enter the captcha code for verification.
Step 5: Click "Fill New Application" and complete the form
Complete Applicant's Information, Passport Details, and Family Details. Proceed as instructed on the screen. Please fill in the fields in block letters.
Step 6: Upload the photo, signature and documents
Upload your passport-size photo, signature, and documents as needed.
Step 7: Submit the application and print the form
After submission of the online application, a copy of the application form will be printed with an Online Registration Number.
Step 8: Submit the printed form to the nearest Indian mission
The application, along with all necessary enclosures and the requisite fee, should be submitted to the Indian Mission/Post/Office within the jurisdiction of your usual residence. It is not dependent on whether the same Indian Mission/Post/Office issued the original OCI documents.
Minors: If the applicant is below 18 years of age, they are considered a minor. In the case of minors who cannot sign, their left thumb impression should be placed in the designated signature box. It's important to note that parents should not sign on behalf of their children.
Signature: The signature/thumb impression should be confined to the prescribed box. In the case of minor applicants, parents should NOT sign in the box.
Photograph Requirements: The photograph to be affixed to the application should be square-shaped, with dimensions of no less than 51x51mm and covering 80% of the face. Additionally, the background should be of a plain light colour (not white).
Objections: In the event of objections arising during the application processing, these will be displayed on the Online Status Enquiry. Applicants should follow the provided instructions and send the necessary documents to the Indian Mission/Office where they submitted their application, referencing the File (or Acknowledgement) Number.
After a successful registration, a copy of both Part A and Part B with an online registration number will be generated. This application form, complete in all respects and accompanied by all relevant enclosures, should be submitted to the appropriate office for further processing.
Documents Needed For PIO Card to OCI Card Conversion
For individuals applying to become an OCI cardholder in place of their existing PIO card, the following documents need to be attached:
Valid passport of the applicant
Valid PIO card of the applicant
PIO Card To OCI Card Conversion Fees
The conversion process involves certain fees to be paid, and they are as follows:
Conversion from PIO to OCI card: $100
If the PIO card is lost or damaged: $200
For the issuance of a fresh OCI card: $275
Please be aware that these fee amounts may vary when converted to local currency based on your location.
Additional Charges and Value-Added Services:
Depending on your country of residence, additional service charges and value-added services may apply. For instance, in the USA, there is an outsourcing agency, VFS Global, which charges an additional fee of $15.90. Furthermore, individuals may be required to contribute $3 to the Indian Community Welfare Fund (ICWF).
In the case of applications submitted within India, the fees differ, with a fee of Rs. 15,000 for fresh applications and Rs. 5,500 for the conversion of a PIO card to an OCI card.
These details provide a comprehensive overview of the documents and associated fees involved in the process of converting a PIO card to an OCI card, ensuring a smooth transition for individuals of Indian origin residing abroad.
References: Gazette Notification of Merger of PIO & OCI Cards
---
Frequently Asked Questions
---
Can I still travel to India using my PIO Card?
According to the latest update, all PIO cards including the handwritten ones will be accepted by the Indian immigration authorities at all airports until 31st December 2023.
Can I renew my PIO Card now?
No, all PIO cardholders (handwritten and machine-readable) have been advised to convert their PIO card to OCI card before 31st December 2023.
---
You May Also Like
Copyright © NRIGuides.com – Unauthorized reproduction of this article in any language is prohibited. The information provided on this website is intended for general guidance and informational purposes only. It should not be considered a substitute for professional advice, and travellers are encouraged to verify visa requirements and travel advisories through official government sources before making any travel arrangements.
---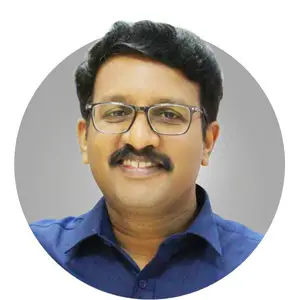 Aneesh, the Founder & Editor of DG Pixels, holds a Master's Degree in Communication & Journalism, and has two decades of experience living in the Middle East. Since 2014, he and his team have been sharing helpful content on travel, visa rules, and expatriate affairs.