Earlier foreign citizens of Indian descent living outside India had the choice to apply for a Person of India Origin (PIO) Card or an Overseas Citizen of India (OCI) card.
In 2014 Indian Prime Minister Narendra Modi, during his trip to the US, announced that the PIO card scheme has been merged with the OCI card scheme and the PIO category has been withdrawn with immediate effect. Henceforth all PIO card holders are considered OCI card holders.
This article explains the features of the PIO card like eligibility, benefits, validity, comparison with OCI card and how to convert a PIO card to an OCI card.
Who is a Person of Indian Origin?
A Person of Indian Origin (PIO) means a foreign citizen (except a national of Pakistan, Afghanistan, Bangladesh, China, Iran, Bhutan, Sri Lanka and Nepal),
who at any time held an Indian passport; OR
who or either of their parents/ grandparents/ great grandparents were born and permanently resident in India as defined in the Government of India Act, 1935 and other territories that became part of India thereafter provided neither was at any time a citizen of any of the aforesaid countries (as referred above); OR
who is a spouse of a citizen of India or a PIO
The PIO card was a document issued to Persons of Indian Origin prior to 2014.
Persons of Indian Origin up to four generations back could apply for the PIO card. The exception applies to citizens of Pakistan, Afghanistan, Bangladesh, China, Iran, Bhutan, Sri Lanka and Nepal.
PIO Card Benefits and Limitations
PIO card holders enjoyed the following benefits before the scheme was abolished:
PIO card holders did not require a visa to visit India for a period of 15 years from the date of issue.
They were exempted from registration at FRRO/FRO if their stay did not exceed 180 days, In case the stay exceeded 180 days, they had to register with FRRO/ FRO within the next 30 days.
They enjoyed parity with NRIs in economic, financial and educational benefits like:

Acquisition, holding, transfer and disposal of immovable properties in India, except for agricultural/ plantation properties
Admission of children to educational institutions in India under the general category quota for NRIs, including medical and engineering colleges, IITs, IIMs etc
Availing various housing schemes of LIC of India, State Government and Central Government agencies

They could also obtain driver's licenses and PAN cards, open bank accounts, and earn and invest like regular Indian citizens.
However, PIOs did not enjoy employment rights in Government of India services. They could not vote in elections or hold any constitutional office in the Government of India. They needed prior permission for undertaking mountaineering, missionary activities, research work and visiting restricted areas in India.
End of PIO Card Scheme
PIO Card scheme has been withdrawn vide Gazette Notification No.25024/9/2014F.I dated 09.01.2015. As of date, all Person of Indian Origin (PIO) cardholders are deemed to be Overseas Citizen of India (OCI) cardholders.
Henceforth, applicants may apply for an OCI card ONLY, as the PIO card scheme is no longer in existence.
In case the PIO card holder has a new passport then he/she can travel to India on their new passport with the valid PIO card and old passport mentioned on the card.
OCI Card Scheme
The Overseas Citizens of India (OCI) card which has replaced the PIO card is more convenient and offers more benefits to the holder.
OCI card holders are entitled to multipurpose, multiple entries, a lifelong visas allowing them to visit India at any time, for any length of time and for any purpose.
They are exempted from police reporting for any length of stay in the country.
They have also been granted all rights in the economic, financial and education fields in parity with NRIs except, the right to acquisition of agricultural or plantation properties.
Possession of an OCI card also facilitates quicker immigration clearance at the Immigration Check Posts.
Differences Between PIO and OCI Cards
| Subject | PIO Card | OCI Card |
| --- | --- | --- |
| Fee | US$ 388 | US$ 275 |
| Validity of visa | 15 years from the date of issue | Life long after the date of issue |
| Registration at FFRO/FRO | After 180 days, within the next 30 days | Not required |
| Obtaining Indian Citizenship | One can apply after regularly raising in India for a minimum of seven years. | After 5 yrs of issue of OCI, one can apply after residing in India for a minimum of one year |
| Visit restricted Area | Prior permission required | Permission not required |
Validity of PIO Cards
All PIO cards including the handwritten ones will be accepted by the Indian immigration authorities at all airports until 31st December 2022, in compliance with the extended deadline for the conversion of PIO cards to OCI cards.
The Bureau of Immigration has confirmed they will accept PIO cards as valid travel documents till 31st December 2022, along with valid foreign passports.
Indian Immigration Check Post(s) will also continue to consider all PIO cards valid for exit/entry from/into India till 31st December 2022.
The extension of the timeline is subject to the condition that in the meantime if any deadline is notified by the ICAO, thereby making handwritten PIO cards invalid, then PIO cardholders would have to obtain appropriate visas from India Missions/Posts abroad.
All PIO cardholders are meanwhile advised to convert their PIO cards to OCI cards well in time. 
How To Convert PIO Card To OCI Card
You can make an online application to convert a PIO card to an OCI card by following the below steps:
Step 2: Click on "OCI Registration"
On the page, click on the text link that says "Click Here"
Step 3: Select "OCI Registration (In Lieu Of Valid PIO-Card)"
This button is on the left-hand side of the page.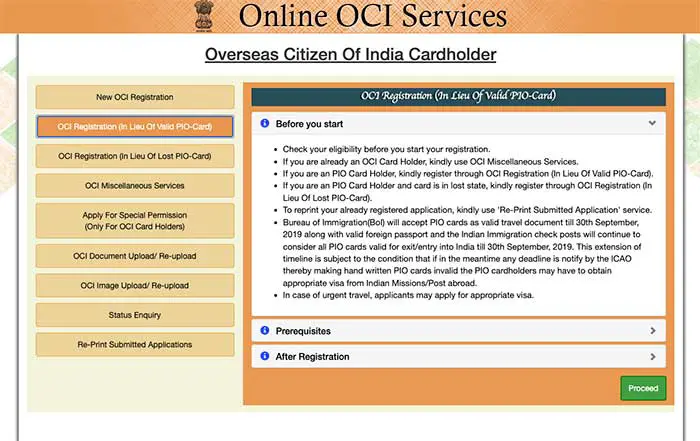 Step 4: Read instructions and click on "Proceed"
Accept the terms and conditions, Enter the captcha code for verification.
Step 5: Click "Fill New Application" and complete the form
Complete Applicant's Information, Passport Details, and Family Details. Proceed as instructed on the screen. Please fill the fields in BLOCK LETTERS.
Provide Valid PIO-Card details at the place specified. PIO-Card should be valid as of 9th Jan 2015.
Complete Part B of the registration process.
Documents supporting your application are to be uploaded in PDF format at the end of Part B.
Step 6: Upload the photo, signature and documents
Step 7: Submit the application and print the form
After submission of the online application, a copy of the application form will be printed with an Online Registration Number.
Step 8: Submit the printed form to the nearest Indian mission
Application form, complete in all respects, along with all relevant enclosures and requisite fee may be submitted to the Indian Mission/Post/Office in whose jurisdiction the applicant is ordinarily residing irrespective of the fact whether the same Indian Mission/Post/Office has issued the original OCI documents or not.
A person who has not attained the age of 18 years is considered a minor. In the case of a minor who cannot sign, his/her left thumb impression may be placed in the signature box. Parents should not sign on the behalf of the children.
The signature/Thumb impression should be confined to the prescribed box. In the case of minor applicants, parents should NOT sign in the box.
The photograph to be affixed to the application should be a square shape of size not less than 51*51mm (with 80% coverage of the face). It should have a plain light colour background (not white).
If there are any objections while processing the applications, the same will be displayed on the Online Status Enquiry. Please follow the instructions and send requisite documents to the Indian Mission/ Office where you have applied quoting the File (or Acknowledgement) Number.
After successful registration, a copy of Part A and Part B with an online registration number will be printed. Application form on Parts A and B, complete in all respects, along with all relevant enclosures may be submitted to the appropriate office.
Documents Needs For PIO Card to OCI Card Conversion
In case of applications for registration as an OCI Cardholder in lieu of a PIO card, only copies of the following documents are to be attached:
Valid passport of the applicant
Valid PIO card of the applicant
PIO Card To OCI Card Conversion Fees
Any request for conversion of a PIO card to an OCI card will attract a fee of $100. If your PIO card has been lost or damaged, the fee will be US$ 200. The fees for the issuance of fresh OCI cards will remain at US$ 275.
Please note that these amounts may vary when converted to local currency.
In some countries, the applicant will also be required to pay an additional service charge and any other Value-Added Services as selected by the applicant.
For instance, in the USA, you have to pay US$ 15.90 to outsourcing agency VFS Global and US$ 3 as a contribution to Indian Community Welfare Fund (ICWF).
In the case of applications submitted in India, the fee is Rs.15,000 for fresh applications and Rs. 5,500 for conversion of PIO to OCI card.
References: Gazette Notification of Merger of PIO & OCI Cards
Copyright © NRIGuides.com – Full or partial reproduction of this article in any language is prohibited.
---
Frequently Asked Questions
---
Can I still travel to India using my PIO Card?
According to the latest update, all PIO cards including the handwritten ones will be accepted by the Indian immigration authorities at all airports until 31st December 2022.
Can I renew my PIO Card now?
No, all PIO cardholders (handwritten and machine-readable) have been advised to convert their PIO card to OCI card before 31st December 2022.
---
You May Also Like
---