Travelling from a foreign country to India means you can bring in a certain amount of goods without paying tax or duty. Some travellers like to bring alcoholic beverages like wines, brandy or fine alcoholic drinks like VAT69, Pinot Noir, Sauvignon Blanc, Johnny Walker, Heineken and Guinness.
No duty rates are applicable on these alcoholic drinks but there are certain quantity restrictions. Besides, you need to follow prescribed rules and regulations. If you go over your allowances you must declare all your goods and pay tax and duty on all the goods in that category.
This article explains the common rules and regulations of Indian Customs Alcohol Allowance and Duty required to be paid.
Indian Customs Liquor Allowance
A passenger flying to India can enjoy a duty-free allowance on alcoholic beverages and tobacco products based on quantity.
The maximum limit on Indian Customs Alcohol Allowance is 2 litres.
If you have already used up your total duty-free allowance (Rs 50,000) on other items, then you are entitled to pay applicable duty charges on alcoholic beverages.
Indian Airport Duty On Alcoholic Beverages
The duty charges and additional tax/cess on Alcoholic Beverages are divided into the following categories:
| Item | Duty |
| --- | --- |
| All alcoholic beverages other than beer and inclusive of wine | Basic Customs Duty @ 150% |
| Beer | Basic Customs Duty @ 100% + Social Welfare Surcharge 10% |
Example: Here is the simple calculation of duty rates applicable on wine priced at Rs 2000:
Wine Price: Rs 2000
Basic Duty Rate @150%: Rs 3000
Total payable Duty: Rs 3000
Please note that this duty is calculated above the Indian Customs alcohol allowance.
Norms for Import of Alcohol / Cigarettes as Baggage
Following quantities of Alcoholic drinks and Tobacco products may be included for import within the duty-free allowances admissible to various categories of incoming passengers:
Alcoholic liquor or Wine or beer up to 2 litres
100 Cigarettes or 25 Cigars or 125 gms of Tobacco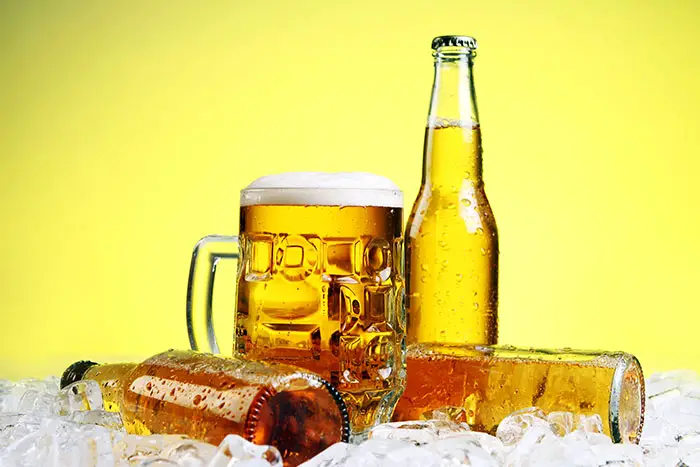 Alcoholic drinks and tobacco products imported in excess of free allowance are chargeable to Customs duty at the rates applicable to their commercial imports as per the Customs Tariff Act, 1975.
Customs Allowance and Duty on Cigarettes
Indian Customs allowance on cigarettes is 100 numbers or cigars up to 25 or Tobacco up to 125 grams.
The duty for cigarettes will be BCD @ 30% + social welfare surcharge @ 3%+ CVD+NCCD+IGST (as applicable).
Important Conditions for Importing Cigarettes
The imported goods shall have a proper pictorial warning on them as prescribed by Cigarettes and Tobacco Products Packaging and Labelling Rules, issued by the Ministry of Health and Family Welfare.
---
Related Articles:
Copyright © NRIGuides.com – Full or partial reproduction of this article in any language is prohibited.
References: CIBC
---