On Friday 19 May 2023, Reserve Bank of India's (RBI) announced it will withdraw Rs 2,000 notes from circulation. As expected, this has created some confusion among people who hold Rs 2000 notes with them, especially those who are outside India.
In this article, we will discuss how Non-Resident Indians: NRI can change Rs 2000 notes which they may have with them abroad.
1 SEPTEMBER 2023 UPDATE
The Reserve Bank of India (RBI) reported that approximately 93% of the Rs 2,000 banknotes have been reintegrated into the banking system since May.

RBI has requested the public to use September to either deposit or exchange their Rs 2,000 banknotes. This will help avoid any last-minute rush. September 30 has been decided as the last date for exchange.

You can go to your bank or an RBI regional branch to exchange or deposit your Rs 2,000 notes. Even if you don't have a bank account, you can still exchange them, but there's a limit of Rs 20,000 per transaction at any bank branch.
Deadline To Change Rs 2000 Notes
As per Reserve Bank of India announcement, people can exchange or deposit them by 30 September 2023.
As per the RBI, banknotes in Rs 2,000 denomination will continue to be legal tender, so consumers can use the currency to buy goods.
This means, the currency notes will not cease to be legal tender immediately unlike when demonetization was announced in November 2016. In November 2016, after Prime Minister Narendra Modi scrapped the high-value notes of 1,000 and 500 overnight, the RBI began printing the 2,000 note.
What Can You Do With Rs 2,000 Notes
If you have Rs 2000 notes, you have three options:
1. Use the notes to purchase goods and services
As the notes remain legal tender, you can purchase goods and services with them, at least until September 2023.
Can Rs 2000 banknotes be used for normal transactions?
Yes. Members of the public can continue to use Rs 2,000 banknotes for their transactions and also receive them in payment. However, they are encouraged to deposit and/or exchange these banknotes on or before September 30, 2023.
2. Deposit the notes in bank accounts
You can deposit your Rs 2,000 banknotes into your bank account until 30 September 2023. Deposits into bank accounts can be made in the usual manner, without restrictions and subject to applicable provisions.
Upon depositing the notes, cash can be drawn from these deposits if needed.
From 23 May 2023, RBI's 19 regional offices (Ahmedabad, Bangalore, Belapur, Bhopal, Bhubaneswar, Chandigarh, Chennai, Guwahati, Hyderabad, Jaipur, Jammu, Kanpur, Kolkata, Lucknow, Mumbai, Nagpur, New Delhi, Patna and Thiruvananthapuram) and other banks will accept Rs 2,000 notes for exchange with lower denomination notes.
3. Exchange Rs 2000 notes through banks
It is possible to exchange Rs 2,000 banknotes for banknotes of other denominations at any bank branch.
Starting May 23, 2023, you can exchange up to Rs 20,000 worth of Rs 2,000 banknotes at a time into banknotes of other denominations. Until September 30, 2023, all banks will accept deposits and/or exchanges of Rs 2,000 banknotes.
To exchange INR 2,000 banknotes from a bank branch, must I be a customer?
No. Non-account holders can also exchange Rs 2,000 banknotes at any bank branch up to a maximum of Rs 20,000. Make sure you carry the necessary documents when exchanging. An identity proof, such as an Aadhaar card, PAN card, passport, or driver's license, as well as bank account information is typically required.
Is there any fee to be paid for the exchange facility?
No. The exchange facility shall be provided free of cost.
To complete the exercise in a time-bound manner and to provide adequate time to the members of public, all banks shall provide deposit and/or exchange facility for ₹ 2000 banknotes until September 30, 2023. Separate guidelines have been issued to the banks.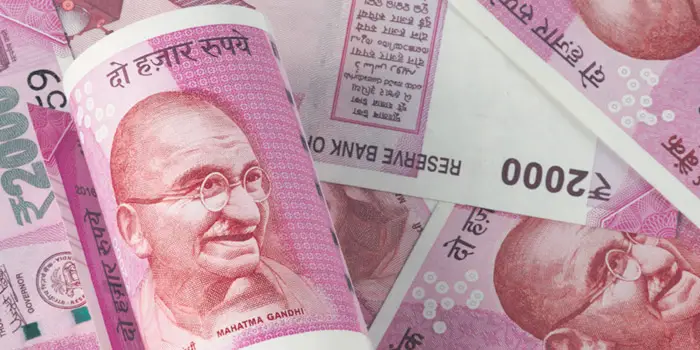 How NRI Can Change Rs 2000 Notes
The following options are currently available to non-resident Indians (NRIs):
1. Exchange the notes through exchange houses in country of residence
You can exchange money through a money exchange house in your country of residence. However note that there is a possibility some exchange houses may refuse to accept these.
2. Take the notes with you to India
If you are travelling to India before 30 September, you can take currency notes with you.
3. Send the notes with some else travelling
If you are not travelling before 30 September, you can try to send the notes with friends or family members who are travelling soon.
The good news is that you have more than 4 months to do this (until 30 September 2023 to be specific).
Please check the rules regarding currency limit when travelling to India.
Limits On Deposit and Exchange of Rs 2000 Notes
You can change 10 banknotes of Rs 2000 denomination at a time.
This means, you can exchange Rs 20,000 at a time.
However, there is no limit on deposit and you can deposit any amount in Rs 2,000 currency notes.
You can utilize time up to September 30, 2023 to deposit and/or exchange the Rs 2,000 banknotes.
Note that banks will also ensure that such transactions will comply with Cash Transaction Reporting (CTR) and Suspicious Transaction Reporting (STR) requirements, where applicable.
The RBI has advised that while crediting the value of Rs 2000 notes to Jan Dhan Yojna Accounts/Basic Savings Bank Deposit (BSBD) Accounts, the usual limits will apply.
Additionally, banks are encouraged to make special arrangements to minimize inconvenience for senior citizens, persons with disabilities, and women seeking to exchange/deposit Rs 2000 notes, RBI said.
The Reserve Bank of India has also advised banks to stop issuing Rs 2000 denomination banknotes with immediate effect.
What will happen if one cannot deposit / exchange Rs 2000 banknote immediately?
To make the entire process smooth and convenient for the public, a period of over four months has been given for deposit and/or exchange of Rs 2000 banknotes. Members of the public, are therefore, encouraged to avail this facility at their convenience within the allotted time.
What will happen if a bank refuses to exchange / accept deposit of ₹2000 banknote?
For redress of grievance in case of deficiency of service, the complainant / aggrieved customer may first approach the concerned bank. If the bank does not respond within a period of 30 days after lodging of the complaint or if the complainant is not satisfied with the response/resolution given by the bank, the complainant can lodge the complaint under the Reserve Bank – Integrated Ombudsman Scheme (RB-IOS), 2021 at the Complaint Management System portal of RBI (cms.rbi.org.in).
References: Reserve Bank of India Press Release, RBI FAQ
---
Related Articles:
Copyright © NRIGuides.com – Unauthorized reproduction of this article in any language is prohibited.
---